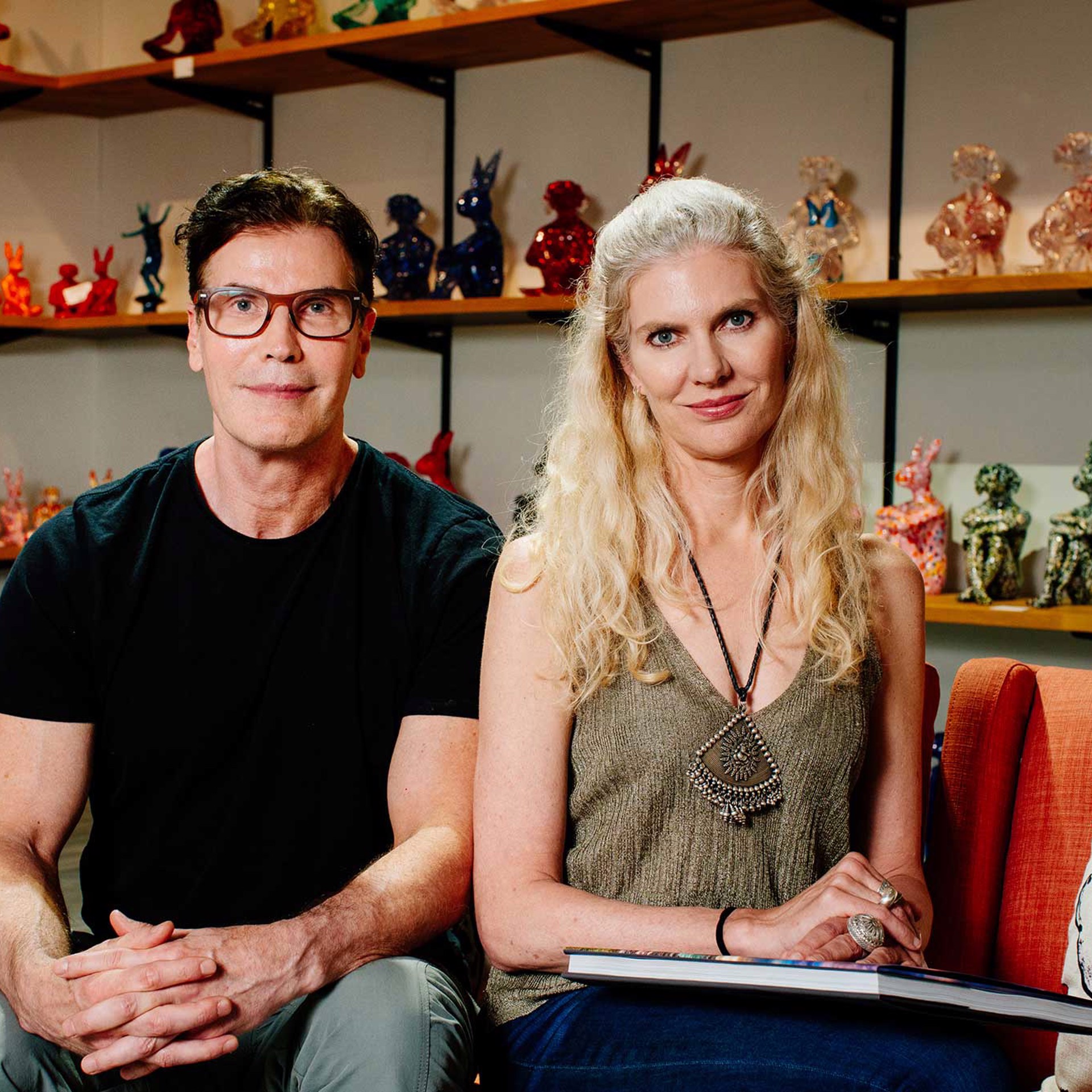 British and Australian artists, Gillie and Marc have been called "the most successful and prolific creators of public art in New York's History" by the New York Times. Creating some of the world's most innovative public sculptures, Gillie and Marc are redefining what public art should be, spreading messages of love, equality, and conservation around the world. Their highly coveted sculptures and paintings can be seen in art galleries and public sites in over 250 cities. They're Archibald Prize Finalists and have won the Chianciano Biennale in Italy, together with winning 2 years in a row People's Choice Award in Sydney's Sculpture by the Sea, among many other notable awards and accolades.
The artists are best known for their beloved characters, Rabbitwoman and Dogman, who tell the autobiographical tale of two opposites coming together to become best friends and soul mates. As unlikely animal kingdom companions, the Rabbit and the Dog stand for diversity and acceptance through love. Gillie and Marc believe art is a powerful platform for change. Their art is multi-disciplinary, paying homage to the importance of togetherness, as well as the magnificence of the natural world, and the necessity of preserving it – for we are it, and it is us.
Gillie and Marc are passionate about making the world a more equal and accepting place, having grown up with vastly different yet fundamental experiences. Marc is the first generation of a holocaust survivor. His father, a Jewish man from Austria, was the only one to survive out of his entire family. This had a profound effect on Marc as he also experienced much antisemitism growing up in Melbourne, Australia. These experiences helped to shape him as an activist for social justice and equality, not only for Jewish people but for everyone.
Gillie had a drastically different upbringing. Her father was from India and her mother was from Holland, two vastly different cultures. Born in London, she then spent the first 12 years of her life living in some of the poorest countries in Africa, seeing first-hand the truth about poverty and inequality. These formative years gave her an understanding of the unique differences between cultures and the joy of understanding and acceptance.
Gillie is Catholic and Marc is Jewish. They have a deep respect and love for each other, and although their beliefs are different they share the same values.
Gillie and Marc have a special spiritual connection to the world and its animals and are passionate eco-warriors. Gillie grew up in Zambia and realised her love for art by sketching all the wonderful wildlife that surrounded her, falling in love with the captivating creatures with each drawing she created. Tragically, she saw an elephant brutally shot one day. This had a profound impact on her as a young child and from then on she vowed to dedicate her life and work to protecting Earth's innocent animals. While in his twenties, Marc fell in love with conservation on a trip to Tanzania to see the chimpanzees. He gained a deep appreciation of all living things in their interconnectivity and the importance of protecting the delicate balance of nature.
Finding an extra special place within the hearts of the artists are rhinos. This love affair began during a project memorialising a black rhino and her calf who mysteriously died in a Zoo in Dubbo. The artists were heartbroken by this tragedy and wanted to create an artwork that would not only remember the rhinos but also raise awareness about conservation. This sparked a fire that led to the duo learning all they could about rhinos, trying to find a way to give a voice to the voiceless, and help people to understand the urgency for the conservation of these beautiful animals. This led to the couple creating the largest rhino sculpture in the world for the famous 'Sculpture by the Sea', winning Australia's coveted Allen's People's Choice and Kid's Choice awards.
A year later they bet their record with the installation of The Last Three in New York City. At 17 feet tall, it's now the tallest bronze rhino sculpture on the planet and features the last three Northern White Rhinos, which have sadly now become two. The Last Three is not just a powerful memorial and magnificent work of art; it's also a catalyst for action. It is aligned with multiple initiatives aimed at spreading awareness, fuelling donations, and working with authoritative bodies to effect real change against poaching. Gillie and Marc used the trajectory of their sculpture's installation to motivate petition signatures, which they used to put pressure on the government of Vietnam to eradicate rhino trafficking in their country. Through their art, Gillie and Marc aim to transform passive audiences into passionate advocates for rhino conservation. Their mission is to use their work as a platform to continue spreading awareness about endangerment, which will ultimately lead to change and save species from extinction.
Their art has raised hundreds of thousands in donations for the many wildlife charities and causes they support through their project Love The Last.
Gillie and Marc are based in both Sydney and London, sharing their time between their two countries of birth.
Read More