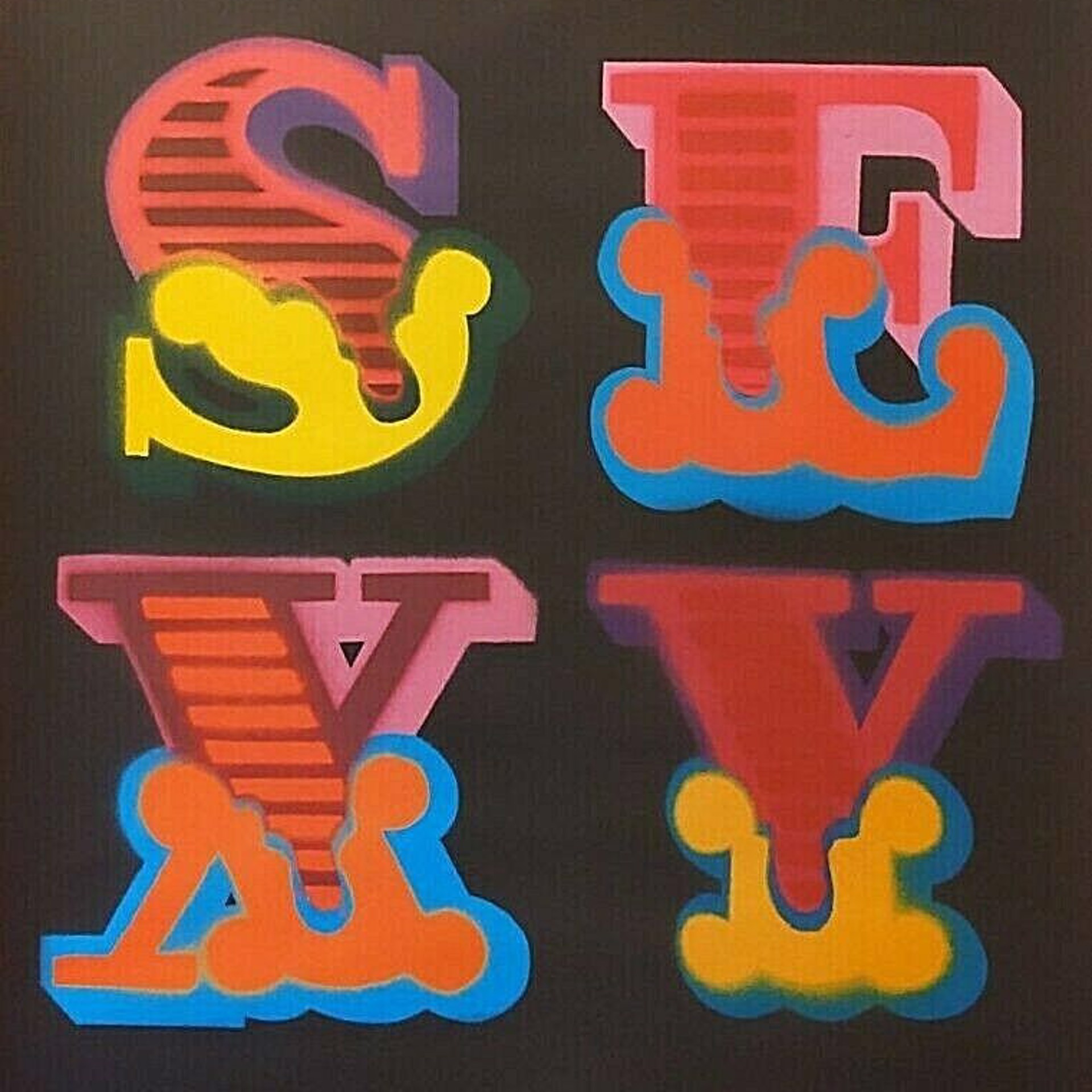 Born in London, Ben Eine is one of the most successful letterform artists in the world and is regarded as a pioneer in the exploration of contemporary typography art. Originally a graffiti writer, Eine started his career over 30 years ago, leaving his first tag all over London before developing his distinct typographic style.
Eine began painting huge, bright and colourful letters on shutters all over East London, creating beautiful forms executed with a relentless "graffiti mentality" – painting over sixty shutters in a couple of months. These imposing and engaging, yet unattributed, anonymously-painted letters stood out from the usual tags and dubs seen on the streets. They caught the public's attention and were seminal in the rise of street art's popularity.
Eine's partnership with the, then emerging, London graffiti artist Banksy was hugely influential to the commercial success of both artists. In 2003 The pair set up the famous Pictures on Walls gallery, with a loose collective of other artists, in order to print and sell street art. POW was established in the spirit of Punk's DIY movement because, as Eine recalls; "There wasn't one gallery in London or the world that would touch what we were doing".
Eine's international acclaim was further heightened when the UK Prime Minister David Cameron gifted his 'Twenty First Century City' artwork to President Obama in 2010. His work is now held in the permanent collections of the V&A Museum London, The Museum of Modern Art Los Angeles, San Francisco's Museum of Contemporary Art, Berlin's Urban Nation Street Art Museum, Los Angeles 'Beyond The Streets' and The Dean Collection.
Eine's painted shop shutters and murals can still be found all over the world. His distinctive letters continue to spell words and phrases across walls from London to LA, Florence to Tokyo. He continues to use street art to engage and surprise the public. In 2018 Eine unveiled the largest street art work in the world; the 'CREATE' mural – a 17500 square foot artwork painted on industrial ground in East London that is visible from space.
Read More